This booklet is about transformation-about lives changed through God's love. Why do people need transformation? The Bible teaches that every human being is born into a state of sin (Romans)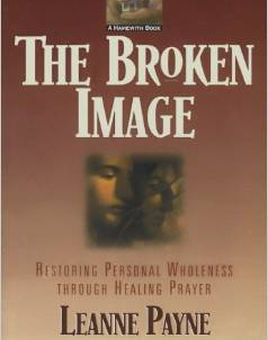 This book presents documented case studies of homosexuals and lesbians who have been reoriented to heterosexuality through applied healing prayer. Leanne Payne has ministered to thousands through her Pastoral Care Ministries (PCM) seminars. Her seven books, which include Listening Prayer, have sold more than 200,000 copies and have been translated into several languages.
Written directly to the Christian who struggles with homosexual temptations, yet a great resource for family and friends who wish to assist the person who is struggling. For more than a decade, this book has been the definitive "must-read" for homosexuals wanting to change their lifestyle. Now, author Joe Dallas updates this all-important book to include new information and fresh insight into the increasingly debated subject of sexual orientation. This new edition will be welcome not only to those struggling with same-sex attraction, but to pastors, counselors, parent, family members, and friends searching for workable answers to the question "Can a homosexual change?"
The Game Plan: The Men's 30-Day Strategy for Attaining Sexual Integrity
Men everywhere are under attack from a foe that can destroy marriages and ruin lives. Who is this devastating adversary? Pornography! Drawing from years of counseling and teaching experience, Dallas helps you face the enemy and lays out a positive five-point strategy--Repentance, Order, Understanding, Training, and Endurance--for overcoming sexual addiction and attaining and maintaining sexual integrity.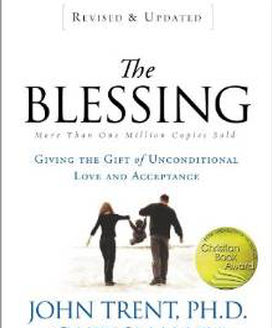 The Blessing: Giving the Gift of Unconditional Love and Acceptance
Many of us spend a lifetime striving for the approval of our parents. Your parent's approval affects how you view yourself and you ability to pass that approval on to your children, friends, and spouse. In The Blessing, John Trent and Gary Smalley present a life-changing gift the Bible calls "the blessing." Five elements of the blessing are meaningful touch, spoken messages, attaching high value, picturing a special future, and an active commitment. Using the principles offerd here provides hope and healing for men and women who may have missed their parents' blessing.
Boundaries: When to Say Yes, How to Say No to Take Control of Your Life
Cloud and Townsend give biblically-based answers to tough questions about setting limits and healthy boundaries - very helpful in families with prodigal children. Having clear boundaries is essential to a healthy, balanced lifestyle.
Payne delves into the depths of manhood showing that with God's healing power, these areas can be developed in any man at any age.Leanne Payne has identified a painful wound which runs through the heart of our culture: sons and daughters who feel abandoned and unaffirmed. Her solution is profound and simple; she calls on fathers to affirm their children. But how can fathers affirm their children if they have never been affirmed themselves? Leanne shows how our heavenly Father works grace into earthly fathers' lives, and she shares hard-won insights from the depth of her experience with prayer, particularly with prayer for healing of this particular wound.
In this interactive book, Carol Wagstaff encourages readers to learn from the leadership of the Biblical prophet, Nehemiah. Readers are equipped not only to cope with--but to conquer some of life's most heartbreaking trials, particularly those that family members and friends face with a homosexual or transgender loved one.
A Parent's Guide to Preventing Homosexuality
Homosexuality... Is it a learned behavior, a biological inclination...or both? The answer to this question deeply concerns parents. They want to know how they can best raise their children. Many would have us believe that nothing can be done to foster the development of healthy heterosexual orientation in children. But the clinical experience of Dr. Nicolosi and others, along with a careful look at the professional literature, indicates otherwise. This groundbreaking book Joseph and Linda Ames Nicolosi uncovered the significant factors that contribute to children's healthy sense of themselves as male or female. After listening to the moving recollections of ex-gay men and women as they described what was missing in their own childhoods, the Nicolosis provide clear insight for identifying potential developmental roadblocks and give practical advice to parents for helping their children securely identify with their gender. Replete with personal stories from parents, children and ex-gay strugglers, A Parent's Guide offers compassion and hope for all those parents who seek to lay a foundation for a healthy heterosexual identity in their children.
Coming Out of Homosexuality: New Freedom for Men and Women
An ideal book for the Christian man or woman struggling with homosexuality who is just starting out on his or her journey toward healing. Coming Out of Homosexuality is a practical guide for people struggling with same-sex desires. You'll find answers to your questions about what it means to be a man or a woman, how your past relates to your present tensions, how Biblical principles apply to your daily life, how you canform healthy relationships, and how your healing may eventually prepare you for hetorosexual romance and marriage. Along the way you will read stories of other Christians who have dealt with the same issues you are facing and their personal failures and successes. Most of all, you'll find strategies that work because they have been developed and used by real people like you.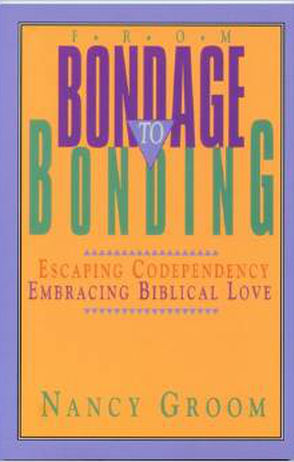 From Bondage to Bonding: Escaping Codependency, Embracing Biblical Love (God's Design for the Family)
Groom addresses the issue of emotional dependency in relationships, especially good for wives of homosexuals or sexual addicts. If you want to escape a way of life that keeps intimacy, authenticity, and spiritual vitality in bondage and discover how you can bond to God and others with passion and boldness, join Nancy Groom for a powerful journey from escaping codependency to embracing authentic biblical love.
Other Titles Available
Click the images below